Braidwood SGBD Sample Panel Operational
Exelon Nuclear has completed site acceptance testing of RSI's Steam Generator Blowdown Sample Panel at Braidwood Station.
Braidwood Nuclear Power Plant recently replaced their Steam Generator Blowdown (SGBD) Sample Panel with one designed and built by Radiological Solutions, Inc. (RSI).This new sample panel makes use of state of the art equipment featuring:
Instruments with digital communications

Touchscreen interface displays

In-panel computer for data display on the interface monitors, trending graphs, alarm annunciation and communication with the plant's data system.
RSI was able to increase the number of instruments in the panel to eliminate the need for sequencers to share instruments through multiple sample streams. This allows continuous monitoring of nearly all parameters for each sample stream.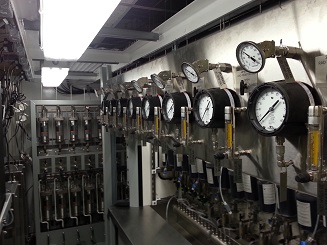 Date : 5/30/2014